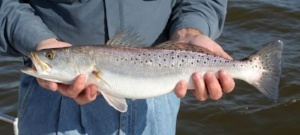 Whether you're a serious angler or an amateur fisherman, there are few places more suited to a day of fishing than Choctawhatchee Bay. Just off the coast of Destin, this bay is an incredible spot to fish, and it is home to a wide variety of marine life.
To help you make the most of a day of fishing, keep these five tips in mind.
1. Get Familiar with the Local Catch
One of the most important things you can do to prepare for fishing in Choctawhatchee Bay is learn more about the types of fish that are found in the bay. Choctawhatchee Bay has a twice-daily exchange of freshwater and saltwater, which means that all types of fish are found there. You can catch Speckled Trout and Striped Bass, but you can also catch Redfish, Grouper, Flounder and Spanish Mackerel.
Keep in mind that the tide and the moon phase can play a role in what's biting. In the bay if the tide isn't running you probably won't catch fish because the tide stirs up the bait. Summer months tend to be the best fishing months because the bait is more active. Full moons equal bright nights which equals full fish in the morning so fishing during a full moon isn't ideal (unless you are fishing at night). Once you know what you want to catch, you can stock up on the right bait and tackle to make it happen.
2. Take Advantage of Shipwrecks and Artificial Reefs
One of the reasons that Choctawhatchee Bay is such a great place to go fishing is because it is home to environments where fish can thrive. Some of these spots are natural, but others are made by man.
There are several shipwrecks, for example, that have been left alone and are now a kind of artificial reef. Many of these shipwrecks are local secrets, but others are marked by lighted buoys. Finding an artificial reef can be a smart way to fish above a teeming ecosystem, which can increase your chance of a great haul.
3. Play by the Rules
Fishing in Choctawhatchee Bay is open to just about everyone. To make the most of your day, however, be sure to play by the rules. To start, make sure you make safety a priority. This means that if you're fishing on a boat, you have life jackets along for every passenger.
Most people won't need to have a captain's license to charter a boat if born before 1988. However, everyone between the ages of 16 and 64 will require a Florida fishing license. Getting one is a breeze and can be done online or at local fishing shops and even gas stations. You can find out more about license requirements and who is exempt from the Florida Fish and Wildlife Conservation Commission.
4. Know Where You're Going in Choctawhatchee Bay
Choctawhatchee Bay is nearly 30 miles long, and its width is anywhere from one to six miles across depending on where you're measuring. Clearly, this is a big body of water! If you're are departing from Destin Harbor, make sure you know where you're heading. Using a nautical chart can be very helpful. You can pick up one from many of the Destin boat charter companies or tackle shops.
From the harbor, most boats will go east or north. Make sure you know how to avoid heading toward the Gulf of Mexico, which requires completely different training, expertise, and fishing gear.
5. Have the Right Boat to Navigate the Bay
Technically, you don't need a boat to fish in Choctawhatchee Bay. You can cast off from the coast or a local dock. However, there is no question that the right boat makes all the difference.
The best double-decker pontoon boats in Destin provide a day of fun for the whole family. Anglers can access the best fishing spots in the bay, and also have access to shade, fun activities, and other great spots on the bay.
If you're planning on fishing in Choctawhatchee Bay while you're in Destin, visit us a Double Fun Watersports and charter one of our new double-decker pontoons with two waterslides. On one of our boats, we're sure you and your group will enjoy a day of fishing and fun on Choctawhatchee Bay.