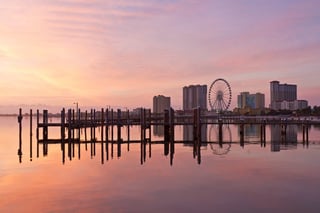 If you're spending time on Florida's Emerald Coast, big names like Ft. Walton Beach and Destin can feel like the main attractions. However, the Santa Rosa Sound is a real hidden gem.

Located between Ft. Walton Beach and Pensacola, the Santa Rosa Sound is the ocean inlet that connects Pensacola Bay and Choctawhatchee Bay. Less touristy and incredibly beautiful, the Santa Rosa Sound is a spot you don't want to miss visiting.

Charter a pontoon boat and check out some of these areas located along the Santa Rosa Sound.
1. Spectre Island
Between Navarre and Ft. Walton Beach, right in the middle of the Santa Rosa Sound, is Spectre Island. There are signs honoring military personnel on the island, but it is open to the public and a free space to explore.

It isn't unusual to find a couple of groups camping on Spectre Island during the summer. However, it is just as fun to charter a boat and stop by for the day and go fishing from the secluded beaches or walk around the entire island in just a few short minutes.

It's a relatively unknown spot, which means that you won't have to deal with many crowds. If there are others on the island, it is still just big enough to offer privacy.

2. Navarre Beach Marine Park
If you take your pontoon boat all the way down to the Navarre Beach Causeway, a bridge stretching from Santa Rosa Island back to the mainland, you'll be right next to the Navarre Beach Marine Park. This is a fantastic stop on your journey, and it is an amazing way to learn more about the local marine life and reef system.

You can take a guided tour of the Navarre Beach Marine Science Station, or you can see and even touch dolphins that have been rescued. There are even artificial reefs where you can get in the water and snorkel or dive, exploring the rich underwater life of the Santa Rosa Sound.

The Navarre Beach Marine Park is free to all and open from dawn to dusk daily. If you want to check it out after you've returned your pontoon boat, you can also access the park by car.
3. The Original Waterfront Crab Shack
One of the coolest things about having a boat and being on the Emerald Coast is being able to float right up to great local restaurants. A chartered double-decker pontoon boat perfectly fits the bill, and there are few places to eat that are better than the Original Waterfront Crab Shack.

Located right on the banks of the Santa Rosa Sound, the Original Waterfront Crab Shack is connected to the Ft. Walton Beach Yacht Basin. That means spots to safely leave your pontoon boat while you dig into delicious cuisine. Enjoy amazing views over the water while you try dishes like the fish tacos and fresh seafood gumbo.
4. Makaph Island
With a pontoon boat charter, you'll be able to explore the Santa Rosa Sound on your own schedule. That means plenty of chances for pit stops in beautiful, secluded spots. One great example? Makaph Island.

This small uninhabited island isn't very well known, even to Florida locals. It is located right in the Santa Rosa Sound, and it is the ultimate spot to stop for a picnic. Anchor your pontoon boat, swim right up to the shore and learn what it feels like to have an entire island to yourself, even if just for the afternoon!

Whether you're excited about fresh seafood or unexplored islands, Santa Rosa Sound has plenty to draw you in. Through Double Fun Watersports, you can charter a double-decker pontoon boat and depart from Adventure Marina. Head right into the Santa Rosa Sound, and you'll be poised to explore the entire area by water.