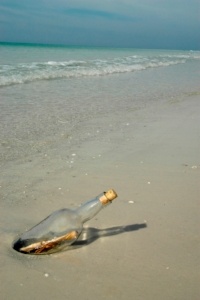 All around the world, people are familiar with Destin, Florida. Whether you're from Georgia or you live in Europe, there's a good chance that Destin brings to mind pristine white sand beaches, clear blue waters, amazing outdoor recreation, and unparalleled scenery.

Most everyone already knows about these common traits that Destin has in store them when they visit, but there is a lot more about Destin that folks may not know. Here are four examples of facts about Destin that might surprise you.
Destin's Sand Comes from the Mountains
When you think of the pure, white, fine sand of Destin's stunning beaches, do you think of the Appalachian Mountains? Probably not, but that's where the sand originates. This might sound crazy, but ground quartz crystal is carried as residue in the water all the ways from Appalachia to Destin, and the Gulf of Mexico, via the Apalachicola River.

This isn't a quick process, by any means. By some estimates, the quartz crystal first started making its way down to Destin a staggering 20,000 years ago. This unusual process is why Destin is blessed with such pristine, world-class beaches. The next time you're in the Appalachian Mountains, be sure to give thanks for the beauty of Destin.
Destin's Famed East Pass is Man-Made
A hurricane, along with local residents and lots of digging equipment, are what is ultimately responsible for the creation of the East Pass, now a major waterway and destination in Destin.

A hurricane came through the region, dumping lots of water and causing flooding all around the Choctawhatchee Bay. In 1926, families needed relief from these flood waters. They began digging a path from Choctawhatchee Bay all the way to the Gulf of Mexico. Clearly, they had the right idea. On the same day that the digging began, the flood waters were released and rushed through, creating what we now know as the East Pass.

If you rent pontoon boats in Destin from the harbor, you'll see the East Pass as you make your way into the North Channel and through to Choctawhatchee Bay.
Destin is Really a Small Community
Many people are shocked to learn how few people actually live in Destin throughout the year. In fact, far less than one percent of the people who flock to Destin's beaches and attractions are actually local residents.

By some estimates, a whopping 4.5 million people visit the Emerald Coast each year and that over 80% of them visit Destin. However, according to 2015 data, Destin's population is just under 14,000.
Destin Boasts the Largest Fleet of Charter Fishing Vessels
Florida is known for watersports of all varieties, and there is no end to the activities you can enjoy on the water while in the Sunshine State. While there are several appealing places along both coasts, Destin comes in as a clear winner when it comes to fishing if you're going by numbers alone.

That's because Destin is home to the largest fleet of charter fishing vessels in one port in all of North America. Whether you're a serious angler in search of a trophy catch or you're trying to share your love of fishing with your kids, there is a boat to accommodate your needs.

You can also find the best pontoon boats Destin has to offer, which are ideal for combining fishing with other fun activities like visiting Crab Island, docking at local beachfront eateries, or making memories on water-powered slides.

There are a lot of fun and interesting facts about Destin that add to its history and personality. One thing that isn't a secret is the fun you and your family can have when renting a double-decker pontoon boat when you're in town.

Equipped with two decks, to waterslides, a Bluetooth sound system, and more, you will create a memorable day on the water. Double Fun Watersports can meet all your Destin pontoon boat rental needs. Book your reservation today!