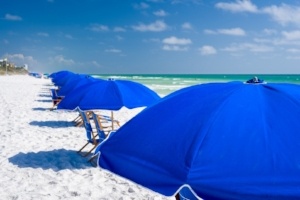 The Emerald Coast is the name for an area of the Florida Panhandle. It spans about 100 miles, and it runs through popular destinations like Ft. Walton Beach, Panama City and Destin.
The Emerald Coast has only had this particular designation since 1983, but in the past, it has been known as the Playground of the Gulf Coast and even the Miracle Strip.
Whatever name it goes by, there is no question that this destination is the ultimate spot to visit in Florida. If you're planning your trip, make sure these four amazing Emerald Coast activities make it onto your itinerary.
1. Dolphin Spotting off the Emerald Coast
One of the most incredible sights to behold is a group of dolphins in the wild. The Emerald Coast is a destination with countless bottlenose dolphins, which are a gray-blue color with a lighter belly. While bottlenose isn't the only type of dolphins spotted in the Emerald Coast, it is the most popular.
There is no one exact spot to see dolphins, so the best way to catch a glimpse of them is to spend plenty of time on the water. Dolphins are often visible from a boat, particularly because they are often fascinated by the wake created by moving vessels.
However, you don't need to go on a specific dolphin-spotting tour to see these majestic creatures. With your own rental boat, you can cruise the waters of the Emerald Coast in order to spot dolphins on your own terms.
Check out this great video a group of fisherman shot of dolphins seen near East Pass in Destin.

2. Snorkeling at the Destin Jetties
Thanks to the warm waters of the Gulf of Mexico, the Emerald Coast is a top spot for snorkeling. While there are plenty of places to go snorkeling off the coast, there is little doubt that one particularly impressive spot is the Destin jetties.
Close to the Destin Pass, the Destin jetties are a popular gathering place for snorkeling enthusiasts. There are some grassy and sandy areas, but the jetties also protect an abundance of underwater wildlife.
Just some of the marine life you can expect to see while snorkeling around the jetties can include Grouper, Barracuda, Puffer Fish and Hermit Crabs. At high tide, visibility will be best, letting you fully appreciate this amazing underwater world.
3. Partying at Crab Island
Crab Island has become a destination in and of itself. Just minutes from the coastline of Destin, this submerged sandbar is a hotspot for anyone who loves sun, sea, and a fun time with friends and family. Crab Island can be accessed with a rented boat, and you can drop anchor anywhere but the designated safety lanes.
Crab Island boasts shallow and clear water, but it is the environment that makes it so popular. On summer weekends and holidays, expect there to be crowds of people listening to music, enjoying their favorite foods and drinks, and even dancing on floating stages. There are floating vendors selling drinks and snacks, or you can bring your own cooler and spend the day soaking up the sun in a great atmosphere.
4. Waterslide Off Your Own Pontoon Boat
Sliding down a double-decker water slide isn't just something that you can do in a water-themed amusement park. While you're in the Emerald Coast, you can rent a boat that gives you your very own private slide!
The best double-decker pontoon boats can come equipped with two water-powered slides extending off the top deck. Just anchor the boat in at least waist-deep water and plunge into the beautiful emerald-green waters.
The waterslides are a huge hit with all ages, but particularly with families looking to find activities for kids in Destin.
These are just a few of the activities that can create lasting memories when you visit the Destin area. Double Fun Watersports can help give you a dream vacation in the Emerald Coast. Rent one of our double-decker pontoon boats to spot dolphins, enjoy your own private waterslides, explore Crab Island, snorkel to see beautiful marine life, and more.