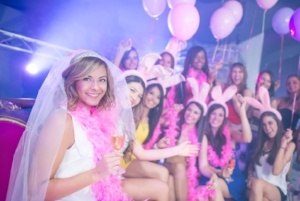 A bachelorette party is a time-honored tradition where a bride can celebrate with her nearest and dearest. Many brides-to-be choose to travel out of town to enjoy their big fling with their besties.
The climate, surroundings, activities, and affordability make Destin, Florida a top choice when looking for the best place to have a bachelorette party. Amazing scenery, warm weather, and lots of options for fun set the tone for a trip no one will forget.
Here are a few unbeatable Destin bachelorette party ideas to put on your list when planning your get away.
Set Off on a Dinner Cruise
One of the most incredible ways to see Destin is right from the water. What, then, could be a better than a dinner cruise complete with fantastic drinks and stunning views?
One of the top ways to celebrate an upcoming wedding is by opting for a Destin dinner cruise. If you have a small group, you can book tickets on a larger vessel. If you are catering for a larger group of women, you might even be able to charter the whole cruise. Expect a delicious meal, great service from onboard staff and a chance to get an upscale dining experience on the beautiful waters of Destin.
Relax with a Day on the Beach
If you and your group are serious about finding the best beach around, then pack your towels and an umbrella and make your way to Henderson Beach State Park. The fine, white sand right on the Gulf of Mexico is a relaxed, scenic beach that you'll love.
Henderson Beach State Park is the perfect place to set up for a picnic brunch or a gabfest. Enjoying swimming, hiking on the nature trail, wildlife viewing, or go on a high-tech treasure hunt with Geo-Seeking. If you're looking to get a tan for the upcoming wedding, this is the place to do it!
Charter a Double-Decker Pontoon Boat for the Day
Sometimes, the best bachelorette party involves your group— and no one else. Chartering a double-decker pontoon boat in Destin can be a fantastic way to stay together while still enjoying the best that Destin has to offer.
With a double-decker pontoon boat, you'll have the chance to blast your favorite tunes, soak up the sun, and bring along a cooler filled with your favorite drinks. You can embrace the solitude by finding seclusion and spotting dolphins, or you can become the life of the party by making an appearance at Crab Island.
Indulge with a Spa Day
A bachelorette party is the perfect time to pamper yourself and indulge in some upscale spa treatments. Destin is home to several spas, which means that you can easily find the perfect location to fit your schedule and your budget.
If you're looking for the best to treat your ladies, then head to The Spa at Emerald Grande in the HarborWalk Village. This spa is routinely ranked as one of the best in Destin, and services include treatments like facials, pedicures, and massages.
Be Wined and Dined at a Top Destin Restaurant
If your bachelorette party attendees have great taste, then ignite their taste buds by checking out the foodie scene in Destin. There is no end to the great dining options in the area. There are plenty of beachfront bars with a casual vibe, but there are also lots of reasons to get dressed up.
Splurge on great wine, fresh seafood, and beautiful steaks at Seagars, where the dress code demands you put on your best attire. If you would rather dine al fresco, reserve an outdoor table for your entire group at the Marina Cafe.
Obviously, you won't have a hard time finding lots to do during your Destin bachelorette party. A double-decker pontoon boat can definitely up the ante for a girl's day. Check out the double-decker pontoon boats with two waterslides at Double Fun Watersports. You and your group can enjoy a half or full day on the beautiful Destin bay waters and create memories that will last a lifetime for you and your closest friends.