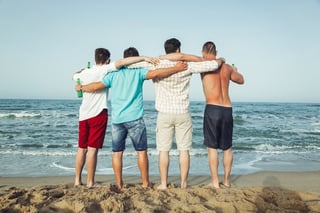 If you want the ultimate bachelor party, Destin is definitely the spot to make it happen. You'll get plenty of sunshine, an array of fantastic nightlife options, amazing restaurants, and stunning beaches.
To take your bachelor party up a notch, you can add in one or more of these memorable activities. Whether your crowd is eager to spend the day on the water or on the golf course, we've got you covered.
1. Charter a Double-Decker Pontoon Boat
One of the most popular ways to celebrate with the guys is by chartering a Destin double-decker pontoon boat. The boats are spacious enough for your whole group, and you'll get the chance to bond and make lasting memories on the water. Play your favorite tunes on the Bluetooth speakers and even bring along a cooler filled with your beverages of choice.
The best part about chartering a double-decker pontoon boat is that you can create your own itinerary for the day. If your group just wants to chill, unwind, and catch up with one another, then take it easy on the Choctawhatchee Bay. If you're animal lovers, then cruise around and try to spot some of the dolphins found in the bay or bring you're snorkeling gear and head over to the East Jetty in Destin Harbor and check out the marine life.
If you're looking for something a little more upbeat, head over to Crab Island and catch some live music or get in on the party atmosphere.
2. Get a Rush with Water Sports
You are your buddies can get a rush of adrenaline by choosing from among a wide variety of water sports available to you in Destin. Snorkeling is on the low-end of the adrenaline rush scale, but it is a lot of fun.
Speed things up by parasailing, heading out on jet skis/waverunners, or heading up by hydroflying. Sun Dogs Parasail at AJ's in Destin is one local company that takes smaller groups out to parasail. This is ideal if there are six or fewer of you who want to try it out. If you have a larger group, places like Dockside Watersports can handle up to 12 passengers. Best of all, you can parasail two or three at a time, which only increases the odds of a great time.
Jet skis and waverunners are always perennial favorites when at the beach. There are plenty of locations offering rentals from one-three seaters. It's important to remember there are restrictions and requirements for operating these fun watercraft, so be sure to inquire about these before you rent.
Hydroflying is the new kid on the block, but it is definitely a big hit. Hydroflight sports use jet propulsion to lift and propel you through the air. If you and your guys are real thrill-seekers, this is definitely a sport for your group. If you want to see it in action before giving it a go, check out Hydroflight Mondays at The Village of Baytowne Wharf held every Monday evening during the summer.
3. Charter a Deep-Sea Fishing Boat
Fishing has long been a popular bonding experience between friends. On your Destin bachelor party trip, there are plenty of spots to fish right from the shore, from local piers, or in the bay. But if you're serious anglers, there is nothing better than chartering a boat to go deep-sea fishing in the Gulf of Mexico. After all, Destin is widely known as the Luckiest Fishing Village in the World.
Destin is home to the largest fleet of charter fishing vessels located in one port in North America. Rest assured, there is a boat and trip schedule to fit your group's needs. Reputable charters have a crew who can give you pointers on catching particular types of fish. They will take you to the best fishing spots depending on your level of experience, the type of fish you hope to reel in, and the season.
4. Tee Off at a Local Golf Course
There are few things more enjoyable than teeing off on a gorgeous golf course on a sunny day. For your bachelor party, golfing can be a fantastic way to spend all or part of a day. There are a number of private, members-only clubs in Destin, but there are also several semi-private and public golf courses in Destin and along the Emerald Coast.
One of the most popular courses is Regatta Bay Golf & Yacht Club. Located in preserves along the Choctawhatchee Bay, this semi-private course can be the perfect spot to enjoy the day with your closest friends. When you've finished your round, kick back at the clubhouse and enjoy your favorite spirits and a great meal.
A bachelor party is often a guy's last big outing with his buddies prior to giving up the single life. Make it count by taking the party to Destin where your entertainment options are wide and varied.
When you're ready to charter your double-decker pontoon in Destin, choose a new boat from Double Fun Watersports. Our boats accommodate up to 12 of your closest friends and we have everything you need to help you celebrate your last days of bachelorhood.