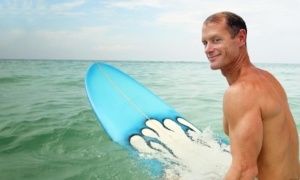 With an enviable, warm climate, sunny skies, and plenty of bodies of water to choose from, Destin, Florida, is a top spot for those eager to get active with water sports. There are plenty of water activities in the area for everyone from kids to the adults.
Whether you're in the mood for a serious rush of adrenaline or you want an activity suitable for the whole family, Destin offers a wide range of choices. Get to know some of the many Destin water sports available for your next Emerald Coast vacation.
Snorkeling in Destin
The saying goes, "If you can swim, then you can snorkel." In Destin, there are countless opportunities for snorkeling. One of the most popular places to snorkel in Destin is around the East jetties, where lots of fish gather. Plus, the jetties provide a range of depths for serious snorkelers as well as beginners.
Got the kids with you? No problem as there are some shallow, sandy spots that kids can enjoy as well as deeper areas, sometimes up to 50 feet in depth, that allow for free diving.
While it is possible to snorkel right from the coast in Destin, having access to a boat means more freedom and privacy. Instead of being forced to swim with the crowds, you can take your chartered pontoon boat out to a more secluded spot. That means fewer swimmers in the area and more underwater marine life to spot up close!
Fishing in Destin
Not all water sports will actually get you wet! Fishing is a popular pastime in Destin, and it is easy enough to see why. Between the bay, the harbor and the pass, Destin is loaded with unique marine environments that contain all sorts of fish.
In fact, Destin is widely known as the Luckiest Fishing Village in the World. It's hard to go away empty handed, because fishing is an option throughout the year and in virtually all weather conditions.
Fishing charters are one option, but they can be expensive and limiting. A more family-friendly approach to fishing in Destin is to charter a pontoon boat and bring along a group of friends or family members. You can still cast straight from the boat, and a double-decker pontoon boat gives you a seriously impressive view out over the water to see what fish are heading your way.
Surfing in Destin
For those who want to try something new in Destin, surfing might just be the answer. Since Destin is relatively free from serious coral reefs, surfing is ideal for beginners. Shallow water and a clear, sandy bottom make it safer than in many other beach destinations.
Surfboards can be rented for the day from multiple places in Destin. Alternatively, visitors can sign up for surfing lessons where the equipment is all provided for one fee.
Visiting Crab Island in Destin
It is impossible to talk about fun in Destin without at least mentioning Crab Island. This submerged sandbar is the hotspot of Destin, and it's no surprise to anyone who has visited in the past.
If you visit Crab Island by boat, you'll be in the middle of a vibrant, exciting environment. Live music and floating stages for dancing can be seen on the blue water, and vendors come by with cold drinks and tasty snacks. There is even an inflatable obstacle course for the kids, and getting wet is a prerequisite!
For adrenaline junkies or families with young children, chartering a pontoon boat can help you make the most of Destin water sports. At Double Fun Watersports, we offer fantastic double-decker pontoon boats perfect for all kinds of fishing, snorkeling, sightseeing, and fun throughout Destin.